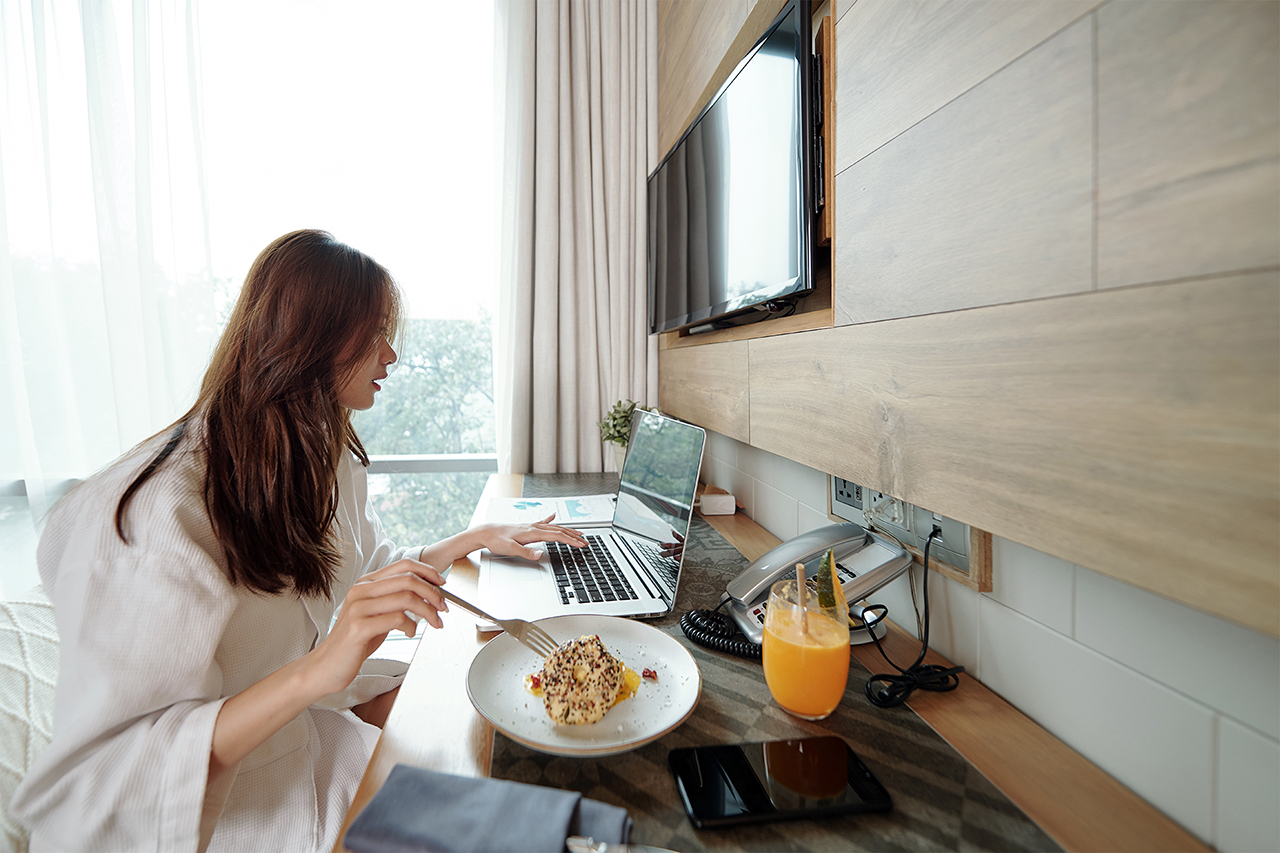 Tech Will Turn Limited-Service Hotels into Vending Machines
By Larry Mogelonsky & Adam Mogelonsky | July 21, 2022: From humble beginnings in the early 60s, as of 2020 vending machines blossomed into a $35 billion industry for the United States alone. Pretty much anything that can fit into an automatic dispenser, and meets the branding criteria, is now sold that way.
Thinking about our current hospitality problems, vending machines are totally immune to labor market hiccups. One rep can service multiple units across a wide geography, while newer vending machines monitor utilization to thereby eliminate stockouts and further optimize labor. Importantly, once installed such automated machines enhance profit margins by reducing both fixed and variable costs. Can this mode be applied to limited- service properties to drive profitability? Let's investigate.
Learning from Vacation Rentals
Without drilling into any specific statistics from 2021 (as this is the making of another article altogether), the broad trend from the past year shows that short-term rentals (Airbnb, Vrbo, Homestay, onefinestay, Sonder, Homes & Villas by Marriott and their ilk) grew in overall market share to comprise roughly a third of all stays for the United States. Besides the immediate demand for contactless travel due to COVID-19, key benefits include variety, flexible room configurations and a direct appeal to the modern tempo of travel.
Variety is easy to understand; each room, apartment, villa or rental house is typically distinct in some way, adding a new zest to the discovery phase as well as to the onsite experience (which also feeds into the flexibility value proposition). But what do we mean by 'modern tempo', especially in the face of how COVID-19 has altered or catalyzed certain trends?
The modern tempo of travel is fast, automated and frictionless (with in-person contact largely seen as a point of this friction), and this extends across all segments and star ratings. Guests will still enjoy meeting new people and chatting while abroad, but they no longer want to waste time on 'transactional' conversations. They don't want to line up at the front desk for check-in. They want to be able to reserve dining or spa appointments off a website or app without any human interactions. They want a frictionless journey so that their time is better allocated towards meaningful experiences.
Technology Depresses Prices
It's worthwhile at this point to digress a bit and look at the macroeconomic forces that support our thesis of how some hotels will inevitably come to resemble vending machines. We're all familiar with terms like 'disruption' and 'creative destruction', but another, more-foundational kindred spirit to ponder is straightforward 'deflation' – basically, when prices go down.
Essential for you to note, technology naturally works to deflate prices because of the new efficiencies that are derived from said innovation, namely increased labor productivity (automation that augments output per worker), improved supply chains (either through better methods of transportation or access to new markets) and faster information flows (to reduce price asymmetry).
Automation and cheaper supply costs mean that a hotel can reduce its overhead and charge less while maintaining its margins, thereby making it more competitive. And to the third reason, consider the price and guest sentiment transparencies brought about by the OTAs and review websites that have resulted in hotels no longer being able to get away with overcharging customers. Comparative information is now too widely available, meaning that a property's rates will gradually be forced down as members of the comp set continually undercut each other to gain market share.
Voluminous economics tomes have been written on this principle. In hospitality, to fight this race to the bottom, we brand, we rebrand, we advertise, we package, we renovate, we personalize, we unveil new amenities and so on. But for certain properties at the economy and midscale, commodification inevitably occurs, with the guest only looking for a bed in a quiet room where the lowest price is the law.
Eliminating Most Onsite Labor
In a deflationary world propelled forward by rapacious technology, the hotel with the fewest expenses wins because such businesses are able to charge less while sustaining profitability or, alternatively, only somewhat undersell the market while diverting lots of cash back into R&D and marketing. For this, the only way forward is replacing labor with cheaper SaaS costs.
For what can and should be done in 2022, getting rid of transactional conversations means applying technologies to automate nearly everything, freeing up existing staff to perform other tasks (like having convivial chats with guests) or reducing their numbers wherever possible. Obviously, this applies more to the limited and select service side of things and not so much for upscale, resort, convention or luxury properties where 'high touch' service is a hallmark reinforcement of branding.
So, what happens when we try to turn a limited-service hotel into a vending machine? A tad extreme, but a time will come soon when properties can use technology to eliminate all onsite staff, save for security, maintenance and housekeeping (although the latter two can also be outsourced to on-demand services). Such a hotel would have an envious EBITDA! Let's examine all the daisies in the tech chain that can make this happen, either today or very soon in the future.


Search: Mapping platforms can now automatically update all OTA content while AI-driven revenue management products can analyze travel intent data in real-time then yield rooms up to the minute. With these tools in place, a revenue manager working at a corporate office can run more than a dozen hotels at once.



Reservations: Besides using a seamless booking engine, intake can be fully outsourced to call centers or AI-based voice services along with integrated chatbots for SMS or social media. You won't need a reservations time save for a front office manager who can also work out of a regional office to handle complains or complex bookings for multiple properties.



Property management: There's no need to host on-prem and devote IT resources to maintaining your own servers. Cloud-everything is the way forward, especially for your PMS for which there are a plethora of secure options already on the market.



Prearrival: Advances in CRMs, CDPs and open APIs allow for rich data integrations so that hotels know their guests before they arrive and offer bespoke, one-to-one upsells, with all of it automated through a robust PMS or communications platform of choice.



Check-in and check-out: This can be wholly contactless to eliminate the front desk. Mobile keys will reside in a digital wallet (accessible via a phone, smartwatch or smart ring) as prompted by a prearrival check-in portal. Or, in the rare case that a guest doesn't do this in advance, a kiosk will be available in the lobby.



In-Room: AI-based voice command speakers can act to address guest questions instead of a live agent at the front desk or concierge. Everything in the room will be IoT-controlled while casting to the TV to access a guest's preferred streaming service will be made increasingly frictionless.



Food & Beverage: While onsite restaurants are critical for four stars and above, for midscale and economy hotels, online food ordering like Uber Eats, Grubhub and Doordash will suffice. Once you set up the drop-off rules for security, you can eliminate this entire department.



Parking: It will all be self-park with automated ticketing and monitoring. Realistically, though, most people will be using Uber or Lyft to get around.



Housekeeping: This can be only upon guest departure for short stays. Or, via integrations to the PMS, you can let the guest choose between no stayover cleans and leaving fresh towels at the door or daily cleaning for an extra charge. Using existing systems, room attendant routing can be optimized with cleaning schedules updated in real-time and pushed to a staffer's phone.



Accounting: No cash transactions will be allowed onsite with mobile payments becoming the norm. Moreover, new centralized payment operations platforms are emerging to expedite audits, workflows, reporting, clearing and reconciliation so that, much like other departments, accounting can be moved to a regional office with one controller for multiple properties.



Recruitment: Networked on-demand labor platforms are emerging that verify and onboard staff members, giving HR quick access to a large pool of potential hires with little extra work.
The End of Onsite Administration
What's fascinating here is that, in a vending machine model, there's no need for a front desk manager, rooms division manager, executive housekeeper or even a general manager. Let that sink in. Hotels at the low end of the spectrum will only need a regional manager who oversees the guest value chain and runs the IT team that safeguards all the connections that make this end-to-end automation a reality.
This may seem revolutionary, but really, it's a matter of survival in the face of heightened competition from new brands, the rise of home sharing and impending commodification. Instead of reacting day by day, think of our current staffing shortage as a wakeup call to truly rethink your operations and drive the bottom line. Technology is the salvation for owners, and with the expectation of a modern tempo your guests will thank you for it or not even notice.
(Editor's Note: Larry Mogelonsky and Adam Mogelonsky of Hotel Mogel Consulting Limited. Larry Mogelonsky and Adam Mogelonsky are one of the most prominent writers in the hospitality industry. Article featured on hospitalitynet, Hotel Mogel Consulting, and many more.) 
For More Info.
Feel Free to Contact Us.
Fill out the form and we will contact you soon. At Aavgo, our focus is to innovate in hospitality tech and deliver solutions that can advance how hotels operate.