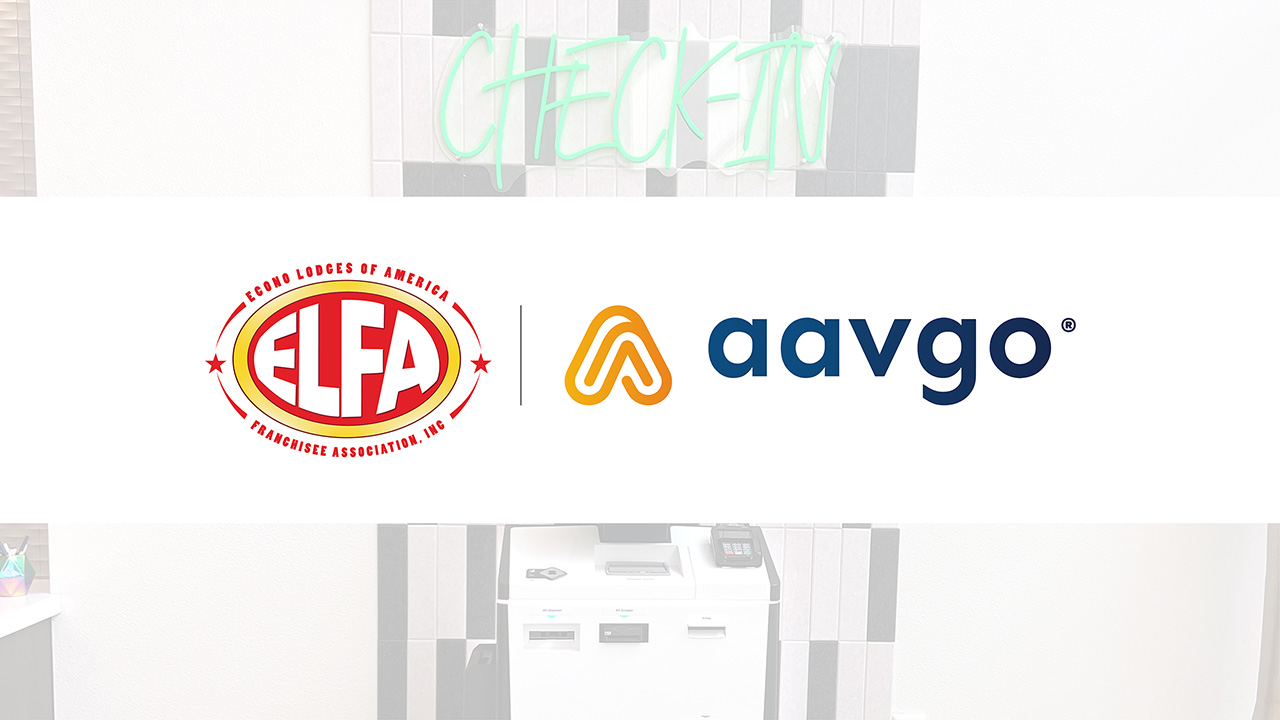 Aavgo Partners With Econo Lodge Franchise Association as Exclusive Provider
San Mateo, CA, May 31, 2023: Aavgo, a cutting-edge, cloud-based SaaS provider, announced an agreement with the Econo Lodge Franchise Association (ELFA) to offer its Smart Reception capabilities at the more than 700 Econo Lodge hotels across the United States. The partnership allows Econo Lodge owners to provide guests with a streamlined, personalized check-in experience while maximizing hotel profitability.
Aavgo's Smart Reception kiosk connects guests with a certified and trained front-desk agent who is dedicated exclusively to helping manage operations at a single property. Real-time response agents are available to care for guests at check-in 24/7, 365 days a year, and Aavgo's end-to-end platform offers all Econo Lodge hotels an all-in-one contactless solution designed to enhance the guest experience while reducing operational costs.
With Smart Reception, guests get all the services offered by a traditional front desk, such as check-in, receiving room keys, and speaking with a remote agent, which properties can provide without diverting scarce resources away from hotel operations.
Aavgo's remote agents provide a full scope of critical guest services, including:
Checking guests in and out, including managing both advance reservations and walk-ins.
Signing guests up for loyalty or rewards programs and informing them of their capabilities.
Managing payment transactions through cash, card swipes, EMV chips, Google Pay, Apple Pay, and more.
Responding directly to guests' requests or questions about the hotel and the surrounding area.
Generating guestroom keys.
Through Smart Reception, remote front-desk agents can also provide assistance with administrative and clerical tasks, freeing onsite hotel workers to focus on direct guest interactions. Some of these back-of-the-house tasks include:
Managing the night audit process.
Responding directly to online reviews.
Opening, managing, and responding to housekeeping and maintenance ticket requests.
Answering phone calls to the property from both on-premise guests and off-property requests.
The flexibility and breadth of the Aavgo solution are especially timely for hotel owners in the current environment, in which staffing resources are tighter and more costly than ever. By utilizing the company's Smart Reception service, hoteliers can ensure guests are always given the highest level of service, regardless of any operational limitations.
"We are excited to partner with Aavgo to welcome their remote front-desk technology to Econo Lodge," said Pradip Patel, President of the ELFA. "This technology is helping hotel operators remain efficient and profitable in an increasingly competitive environment. Using Aavgo, our hoteliers will be positioned for success despite the many challenges limiting operations across hospitality."
"Our recent agreement with the Econo Lodge Franchise Association is helping more hoteliers than ever take their tech edge to a new level in a hospitality labor market that is still in recovery," said Mrunai Desai, Founder, and CEO of Aavgo. "We are pleased to provide state-of-the-art, remote front desk support systems to any and all Econo Lodge hotels, giving guests access to a fully contactless stay experience while reducing the operational burden on hoteliers. Our certified and trained agents can perform any action associated with the front desk, including responding to guests, answering online reviews, and even managing night audit processes. As the oldest hospitality association in the United States, ELFA has been looking out for its members' success and well-being since 1974. We are honored to be a part of their strategy for success and will continue to support hoteliers through technology going forward."
About ELFA: ELFA, the Econo Lodge Franchisee Association, is the oldest independent hotel franchisee association of its kind, serving Econo Lodge franchisees nationwide since 1974. In addition to its work communicating and working through member issues with the franchisor Choice Hotels International, ELFA is dedicated to serving its membership via identifying and promoting innovative and helpful products, services, and companies that align well with the economy hotel owner/operator. You can find out more about ELFA by visiting www.elfa.org.
About Aavgo: Aavgo is taking the hospitality industry by storm with its cutting-edge cloud-based SaaS technology solutions that transform hotels' operations. The exclusive 360 Platform and Smart Reception products offer an all-in-one contactless solution tailored to enhance the overall customer experience while maximizing hotel profitability. With features such as contactless check-in, digital housekeeping, and lost keys, guests can enjoy a seamless and personalized experience, while hotels can reduce operational costs. Aavgo's customer-centric approach and reputation for personalized technology make it the industry leader, serving clients across the United States from its headquarters in San Mateo, California. Ready to transform your hotel operations? Choose Aavgo today!
Aavgo's Smart Reception: Brings technology & automation to hospitality
Aavgo is a cloud-based SaaS technology company that offers solutions that directly impact hotels' overall efficiency of operations, customer experience, and profitability. For more information about Aavgo's Smart Reception, please contact our experts by phone: 1-888-932-2486 or via email: info@aavgo.com.
(Note: David Ramirez is the Marketing Manager for Aavgo.)
For More Info.
Feel Free to Contact Us.
Fill out the form and we will contact you soon. At Aavgo, our focus is to innovate in hospitality tech and deliver solutions that can advance how hotels operate.